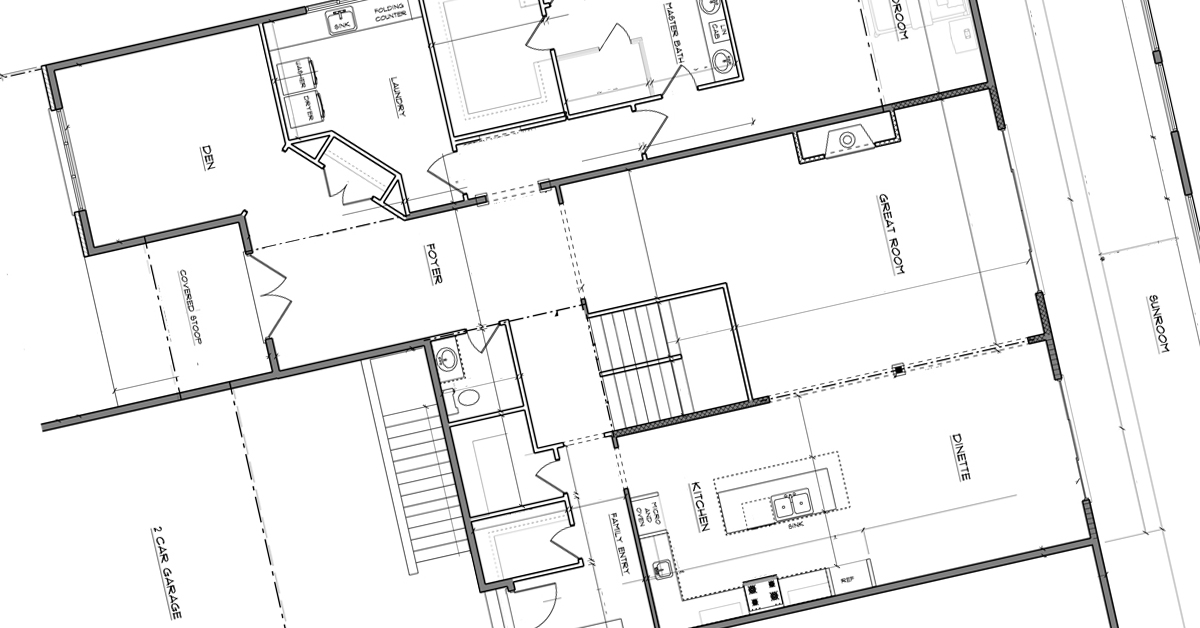 11 Aug

Top Things to Consider for a Functional Layout

Planning a new build is a popular choice for  many Quad Cities residents. But the excitement of your new home won't last if the home's design doesn't suit your day to day life. You can design your home so it embraces everything you want in style and design but don't forget about  functionality. Whether the floorplan is open and modern or somewhat more traditional a functional layout is a must.
Designing Your Perfect Home
Your home should reflect your personality. The clean lines of mid-century modern, the open and airy farmhouse and the stately traditional are aesthetics that speak your language and convey your personal appeal. The design of your home has a deep affect on how you feel. But those feelings only partially due to aesthetic and design.
The best designs enhance your experience in a space. And a huge part of the experience you have in your new home comes from a functional layout. Before you design the perfect floor plan take some time to think about your needs as a family today, tomorrow and long-range. Discuss your ideas with your design team and incorporate your family's functional needs into your plans.
Begin Outside
Whether you love to entertain, have kids who play every sport available, like to spend your weekends playing in the mud or perusing the local farmer's market there's lots to consider. Your lifestyle dictates the layout that works best for you. And designing a functional layout for your home begins outside.
Door Placement
Of course nearly everyone loves a grand entryway. A beautiful foyer sets the tone for the rest of your home. A stunning entry door with sidelights that opens into a lovely and tasteful foyer lets your guests know they are welcome in the most perfect way. 
But if you've just finished your yard work or spent a day on the river you may not want to bring the remnants of your time in through the front door.
This is when a side door works. If you opt for an attached garage consider the placement of the side door. Your don't want it to open directly into your living space. Ideally your alternate door opens into the mud room or laundry area. That way you can leave your muddy boots, grassy tennis shoes or cleats in that room and make a beeline for the shower. 
If you have school-age children your entry, either main door or side door, can make or break their routine. Make sure there's a spot for book bags and school shoes, sports equipment and anything else they may need. Organizing your entryway helps you make sure they arrive at school on time and fully prepared.
Porch and Patio
A breezy porch with a rocker or two where you can unwind, maybe read a book or just enjoy looking out on the world is a dream of many a Midwesterner. Go for it! Incorporate that dream porch into your home design. Make sure it's covered and deep enough to enjoy for three seasons.
For those who like to entertain, a large backyard patio or deck is a must-have. The weather in our neck of the woods is very enjoyable at least part of the year. Barbecue those ribs on your patio while you regale your friends with your best stories. Serve them up al fresco and enjoy. What better way to incorporate a functional element into your backyard?
Inside Functional Layout
Begin your home design by imagining how each room functions for you and your family. Take time to consider just how you move through your home. What works? Do some aspects frustrate you? Would you change anything if you could? Now proceed with plans that are frustration-free! Consider these things:
The Awkward Space
Just like an awkward pause in a conversation an awkward space can make you feel unsettled. It seems wasteful at best and sticks out like a sore thumb at worst. Review your home plans and make sure the space you have is part of a functional layout. Avoid areas like landings that are too shallow for a potted plant but deep enough to look empty.
Plan Plenty of Storage
Those awkward areas we mentioned above? Turn them into storage spaces. Put a closet beneath the stairs to store your house-cleaning gear. Install a small built-in bench in your foyer for those last minute items you need before you go out the door. Designate storage for specific items, such as guest linens, sports equipment, cleaning items, etc. Think about the storage in your home as you do the cabinets and pantry in your kitchen.
Be Practical
Make everyday chores easier. Include an upstairs laundry room. Incorporate a powder room for guests and family members that's convenient to your living area. Look at your kitchen design. Is it a functional layout? Is there an efficient kitchen triangle? 
Plan a Forward-Thinking Functional Layout
The most effective functional layout is one that serves you and your family today and in the future. Small children grow into teenagers who aren't necessarily going to want to be with mom and dad all the time. Plan some space that they can call their own. Incorporate a functional basement design that can be a playroom today, a teen "hang-out" in the near future and a workout room for empty-nesters.
Create enough space for an in-law suite if you envision one day your parents may need to move in with you. Make sure your home is easy to navigate, no matter your age. The perfect dream home is one that accommodates the needs of all who live there with a functional layout.
The Key to Design Success is A Functional Layout
Designing your home with a functional layout involves making well-thought out decisions. Our design team knows all the ins and outs of what makes a space functional and what might feel out of sync. What's more, Seiffert Home Design offer VR home tours so you can see how your layout works and make the necessary tweaks before you build. For more on how you can incorporate a functional layout in your new home contact Seiffert Home Design today.