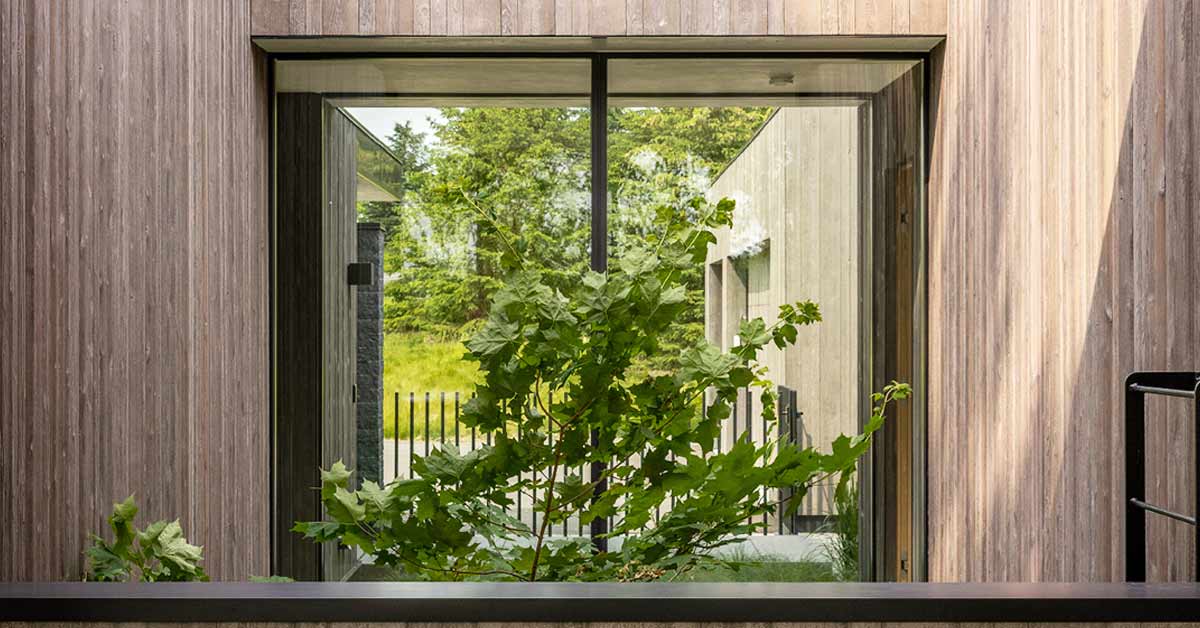 13 Jul

7 Ways to Design Your Home with Connections to the Outdoors

No matter what your style is forging  connections to the outdoors in your home's interior has many positive effects. Suddenly your home becomes more expansive, opening up to a view of nature outside and in, there's more flow between the rooms and your homes interior is awash with a light and soothing vibe. Everyday life in your home is much more enjoyable when you connect to nature.

If your new custom home design includes connections to the outdoors we have a few ideas for you. Here we offer our thoughts on how you can create a seamless flow between the outdoors and your home's interior as well as provide some tips for incorporating elements of nature that offer a calming and connected presence.
7 Ways to Bring Connections to The Outdoors into Your Home Design
Both maximalists and minimalists can take advantage of connections to the outdoors in their new home plans. This growing trend is suitable for the most modern of homes, rustic farmhouse and those who prefer a more traditional style. Here we offer five ways you can design your home with connections to the outdoors.
1. The Living Wall
Using plants to create a living accent wall brings a serenity into your home that's similar to sitting in a lush outdoor garden space. All you need to do is hang a variety of ceramic, terracotta or glass vessels and fill them with your favorite houseplants. Herbs are always a nice fragrant touch. For those who lack the confidence of a green thumb you could use easy care succulents or even a slab of moss. Earthy, natural and living décor is on trend and oh-so-lovely.
2. Replicate Earth's Textures
Accent pieces and fabrics that replicate earthy colors and materials are fun and subtle ways to form connections to the outdoors. Consider a throw in a deep green that mimics ground covering. Natural materials such as a jute area rug, some gauze curtains and natural pottery or stoneware pieces provide a special summery vibe no matter the season.
3. Accessorize with Mother Nature
Plants are always a great way to incorporate connections to the outdoors but how about some other items found in nature? Seashells, stones and crystals are lovely ways to display your love of the outdoors. Fresh or dried flowers and botanicals, a mini zen garden or fountain implement elements of nature that are both soothing and decorative.
4. Wood and Stone
Exposed wood beams, a stone backsplash, natural tiles, a stone and wood fireplace, and a slate topped table all forge natural connections to the outdoors. Embrace other natural elements and incorporate them into your home. Utilize wood and stone in one specific room such as kitchen, bathroom or family living space, or sprinkle these design elements throughout your custom home. Including these beautiful elements in your custom home design echoes nature in a trendy and lovely way.
5. Color Palette Connections to The Outdoors
To truly evoke connections to the outdoors in your home design you need to pass on bright hues and jewel tones. Follow Mother Nature's Paulette and look for colors you would find in the outdoor world. Mossy and sage greens, terra cotta and earthy browns, even sunny yellow and sky blue. Let your favorite season and climate dictate your color palette. Do you enjoy the mountains and forests? Deep greens like the trees, dark blue like the rivers and browns of the mountains themselves echo your favorite environment. Likewise if you're a desert lover, rusts, pale pinks, sage green and gold forge that connection. There really is a color palette suitable for connections to the outdoors in your favorite place.
6. A Garden Room
There's no better way to bring the outdoors inside to you than with a sunroom or screened porch. Select the optimal view from your home and choose that spot for your serene space. A glassed in room is one you can use all year round with the proper insulation and heating for the Quad Cities. A screened in porch provides the perfect sitting area to listen to the spring rain on the newly unfurled leaves and greenery. Whichever you choose fill your room with colors and materials that reflect connections to the outdoors.
7. Windows. Windows, Windows
This might be one of the more obvious ways to forge connections to the outdoors in your new custom home design. Windows let the outdoors come into view and flow through your home. Big, broad window walls, floor-to-ceiling windows on the main level or seamless corner windows flood the room with nature's finest views. Today's extra large windows are more energy efficient than ever and the one upgrade that gives you instant return on investment. Your resale value is high when you upgrade your windows. 
We Can Help Design Your Home with Connections to The Outdoors
If you want more connections to the outdoors in your new home then talk with our design team. Our professionals are knowledgeable about home design and know what works for our Quad Cities neighbors. Please reach out to Seiffert Home Design today and let's create the home of your dreams together.