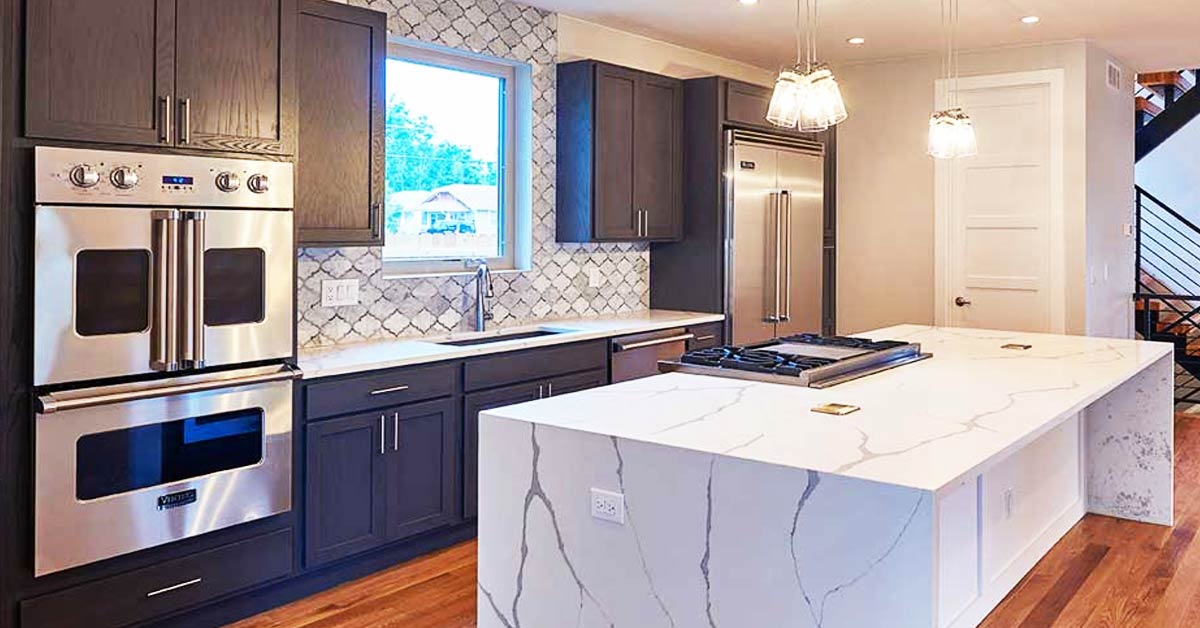 29 Dec

4 Designs to Consider for Your New Home's Dream Kitchen

Kitchens are and always have been the heart of the home. They are the central gathering place for family, the place for baking holiday treats and anytime you have a party in your home the kitchen seems to be the spot where guests end up. So if you're designing your custom home your new dream kitchen needs some extra attention. Here we offer the top trends in kitchen design and ways you can turn your new home's dream kitchen into a function showplace.

Your sense of style is unique and so are your needs. Not everyone wants a chef's kitchen but those who enjoy cooking consider it a must. Some homeowners want their dining area to be more formal and prefer to utilize a meal bar for casual meals. Some want their new home's dream kitchen to reflect the popular farmhouse style with a breakfast nook area displaying a big table and chairs for everyone. As they say, "different strokes for different folks."
Your New Home's Dream Kitchen Should Include These 4 Designs
No matter your style or the latest must-haves in dream kitchen design we have a collection of trends in kitchen design that set your dream kitchen apart from the average kitchen. After all this is your golden opportunity to choose all the design aspects you've always wanted in your dream kitchen.
1. Splurge-Worthy Cabinetry
Your cabinets are a central piece of your dream kitchen and you should opt for the best you can afford. Not only are higher end and custom cabinets stunning they are as functional as they are beautiful. Good quality cabinets will maintain their beautiful appearance for decades.  When you choose custom cabinetry for your new home you'll design it to your needs. 
Shaker style cabinets remain very popular among homeowners. That's because their simple elegance works seamlessly with any style home. From mid-century modern to farmhouse to traditional, country French and on and on the shaker style cabinets align with your design. 
2. Your Dream Kitchen Should Showcase High-End Countertops
Countertops that are distinctive and high-end are currently second only to custom cabinetry in desirable kitchen trends. And why not? The best quality countertops offer beauty and durability so your dream kitchen will look, well, dreamy for years to come. And durability is an excellent quality for those who want a chef's quality kitchen. Home chefs utilize every inch of their workspace. High-end countertops can take anything you toss their way and stay looking good. 
Marble, travertine and quartzite are among the top materials desired by homeowners. These natural materials do require some maintenance. Marble must be kept clean and sealed every six months to one year, Travertine needs to be sealed once a year to maintain it's stunning appearance and you will need to apply sealant to your quartzite counters once every two years. If you're looking for a lower maintenance countertop that is still quite stunning in appearance check out the manufactured quartz counters. They need minimal maintenance beyond cleaning.
3. Extra Large Islands Afloat in Your Dream Kitchen
When designing your new custom home you'll find most rooms are designed for specific functions; the laundry room, your home office, bathrooms and bedrooms are mostly geared toward the primary function pf laundry, work, personal needs and personal space. Your dream kitchen however is a multifunctional space. It serves for meal prep, dining, homework, special occasion baking and cooking and party central. 
One of the best ways to max out your multifunctional usage is by installing an extra large kitchen island. The big island (no-not Hawaii!) provides ample area beneath for plenty of storage. The large counter provides an area for family dining with enough counter space left over for prepping dinner.
Larger islands have been a trend for the last few years but the dimensions we're seeing these days are quite large, comparitvely. Today's multifunction islands are exceeding seven square feet in size, on average.
4. High-Tech Appliances Rule
Kitchen technology has only improved since we all spent many months secure in our homes. Technology makes meal prep and food storage and even clean up much easier. Quad Cities homeowners are no exception when it comes to the kitchen appliance tech trend. Your new custom home's dream kitchen should absolutely include the latest in appliance technology.
Smart refrigerators with touchscreen control can help you with your meal planning and groceries. The greener and speedier induction range is a very popular choice. Wine and beer fridges and other types of custom refrigerators are also trending along with precision water filters, smart ovens that send you a notification on your phone when your food is ready, ultra-efficient, whisper quiet dishwashers, one-touch faucets and built compost collectors bring your dream kitchen into the 21st century.
Design The Custom Home of Your Dreams
When you design your new home's dream kitchen one thing is clear: there are no rules. Whatever makes your life easier and showcases your unique sense of style is what's trending. At Seiffert Home Design we appreciate your dreams and go the extra distance o help you design your perfect one. From our custom home design professionals to out one-of-a-kind VR design tools we are here to work with you. Contact Seiffert Custom Design today.