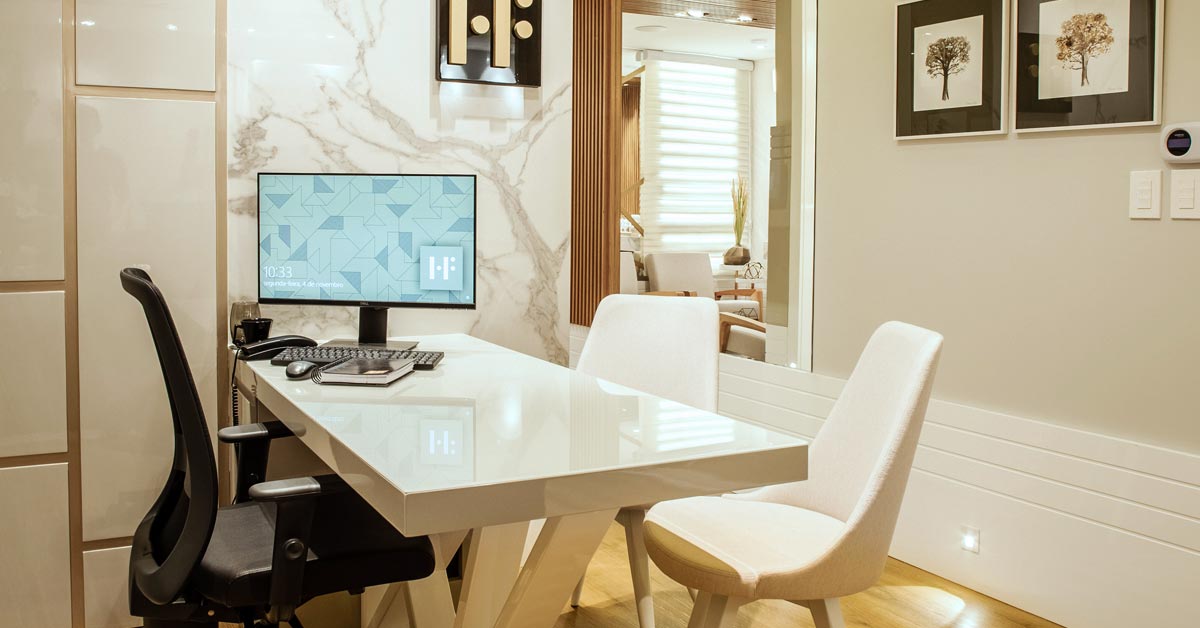 10 Aug

7 Ideas for Your Custom Home Office Build

Building your dream home? Don't forget the number one necessity for today's savvy home owner; a custom home office. The pandemic of 2020 forever changed the way most offices do business. Flex schedules and work-from-home options are now part of the conversation and having a space dedicated to your work at home is a necessity these days. Here are some ideas to consider for your custom home office.
What is YOUR Ideal Custom Home Office?
So you're building your dream home and you should have the ideal custom home office for you. It's easy to feel overwhelmed with such a big project but we're here to make your dream design a reality. Make sure to consider all you need to do your job. Here are 7 ideas you should consider for your in-home office space.
1. Choose The Right Location
No one needs a makeshift office space. Sure we all grew accustomed to doing business and schoolwork from the kitchen, coffee or dining room table but now we want a designated space. And not any space will do. 
Your custom home office should be located in a part of your home away from where you and your family do life. That way you'll avoid interruptions during work hours and during family time.  Make sure that space is in a quiet area of your home. A walkout basement is a great spot, especially if you need a private entrance for clients. 
2. A Worthy View
Position your custom home office in a way that you can take advantage of the view. When you work staring at a computer monitor all day your eyes grow weary. Doctors advise taking a "view break" every 20 minutes or so to prevent headaches and eyestrain. Make sure the view from your window is a calming, lovely look at nature.
3. Built-In Bookshelves and Cabinetry
Built-in bookshelves and cabinetry offer easy organization and add a touch of elegance. They serve as storage for industry-related reads, files and tangibles. Built-in shelving also offers a spot to display your work, should that apply. Finally a well-appointed bookshelf and cabinetry area is the perfect backdrop for those professional zoom meetings. 
4. Lighting is Crucial in Your Custom Home Office
Windows allow you to flood your custom home office with energizing, mood-boosting natural light. Recessed lighting in the ceiling is far less harsh than direct light when you're working late into the evening or before the sun is up. Ambient lighting from well-placed lamps and even sconces create a warm and inviting environment. 
5. Charging At the Ready
Make sure you have ample electrical outlets and built in charging stations for your necessary technology for sure. But in your custom home office you really need your outlets placed in convenient locations. When you build your custom home with Seiffert Home Design you have the benefit of our virtual reality tool. That means you'll see exactly how your office is integrated into your design and how the finished space should look. By using our VR tool you can determine the optimal location for your outlets and charging areas. 
6. Go Big with Your Custom Home Office
Don't skimp on space when designing your new office space. You'll be happy later, trust us. You want to consider your comfort as you will be in your office for hours on end. You sure don't want the walls to start closing in on you! Make sure you have space to move around and don't forget about the ceilings.
Also if your spouse needs home office space or your children plan to utilize the quiet space for homework or digital learning they'll need their own area within your office. Alcoves or separate space within your custom home office should be considered.
7. Speaking of Comfort
Don't make your custom home office all about the desk. Every home office benefits from a comfy chair or two. Whether you'll be meeting clients in-person or just need a change of scenery to reflect when you incorporate a separate area where you can take a break from the desk and monitor it creates a much more pleasant ambience.
We Work With You
For your new custom home design you want the very best. At Seiffert Home Design we've been the Quad Cities' go-to for more than a century. We're local, family owned and most of all reliable and true to our word. Contact Seiffert Home Design today and let's design your custom home office together.