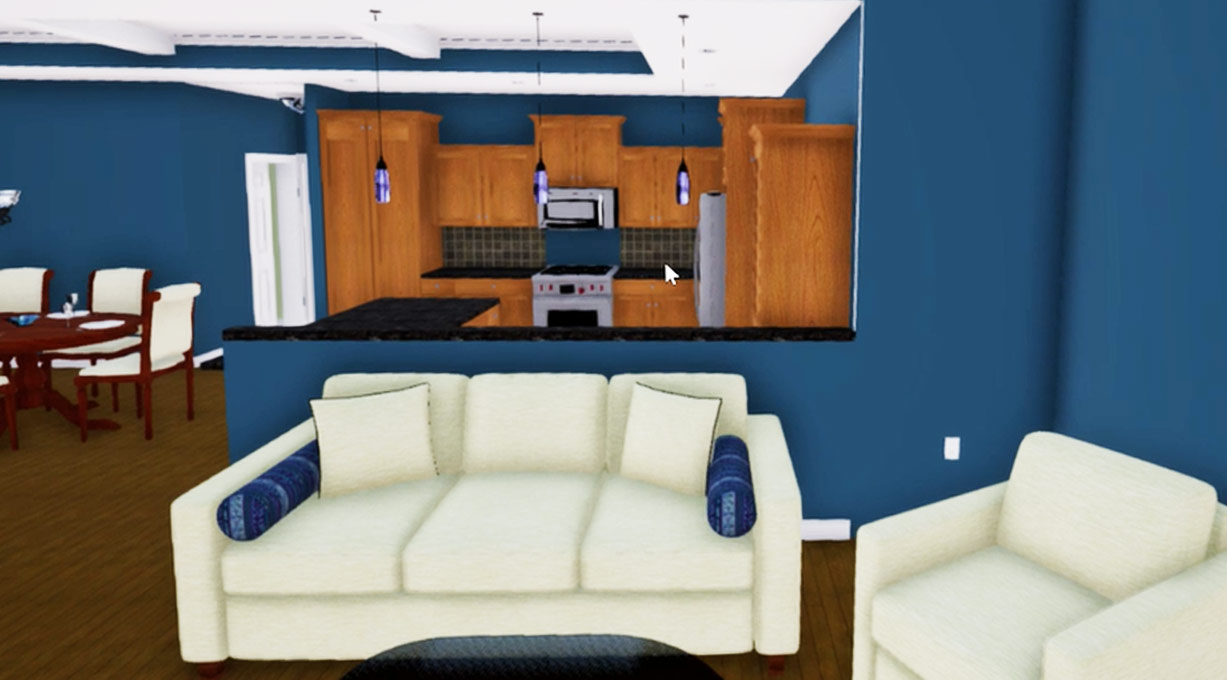 15 Dec

5 Benefits of Using VR As Part of Your Custom Home Journey

Virtual reality is making its way out of the gamers' caves and into mainstream arenas like homebuilding. Using VR as part of your custom home design experience brings many benefits to the table. Chief among those benefits? Using VR saves you time and money, two commodities there never seems to be enough of especially when building a home. When you use VR, as part of your custom home journey you get all the benefits of a walk through but you can make changes to the design before the first hammer is in hand.

There really are countless benefits to using VR as part of your custom home journey. Our customers love the personalization of design enabled by VR technology. And there are many more reasons to include VR in your custom design. Here we offer five of the top benefits of using VR to design your custom home.
5 Benefits of Using VR in Your Custom Home Design
A common worry among those on the custom home journey is "what if we don't like the end result?" And it's a very valid concern. By using VR to preview your home design it's as though you're walking through your new home. But, unlike waiting months only to find out the placement of the windows is wrong or the fireplace would look much better on another wall you have the ability to see it and make changes before construction begins. Here are the top five  benefits of using VR for your custom home.
1. Eliminates the Unknown
There's a definite disconnect between your designer's renderings and the final project, especially if you have no experience in custom home design. It's hard to look at a 2D design and picture it in real life. Using VR you'll be able to get a 360° view of the dimensions of each room, counter height, window placement and just about anything you would see in the finished project. You can make any changes or additions at that point. The previously unknown aspects of your new custom home are no longer unknown when using VR.
2. Using VR Fuels Your Emotional Connection
VR places you directly into your new home. You see yourself there and you picture your family settling in and ,taking the home your own. That's an emotional connection that usually doesn't happen until the home is under construction and takes shape. It's much easier, using VR, to imagine furniture placement, decorating ideas and all the little things that make a home your own.
3. VR Allows for Customization
When you look at home plans and even see similar constructed versions of your custom home design you see the basics but you don't see those customizations that make the home yours. And sometimes it's impossible to really know what kinds of customized features you want to include until you actually view the home design in person. Using VR you see you r new custom home at every angle. Any changes you want to include are easily made with your design pro right at your side to confirm. Dark alcove? Add a window or skylight. Don't like the layout? Change it. Need more closet space? You can do that in virtual time. Check out your boldest ideas and see what you think. There's no commitment.
4. Using VR as Part of Your Custom Home Journey Saves Time and Money
Those two very precious commodities, your time and your money, are challenged when you make changes while your custom home is under construction. Eliminate the drain on your budget and keep to your timeline using VR to aid in your custom home design.
5. VR Ensures the Best Placement for Maximum Light, Space and Views
This is your dream home and you want the very best in view, natural light and space for your family. Ensure you get the home of your dreams before construction even begins with VR. Your virtual design process creates a 3D 360° representation of every aspect of your home. Design your home specifically for you and your family.
Seiffert Home Design Brings the Future to You
While it might seem futuristic to some using VR in your custom home journey is here now and here to stay. It's efficient and ensures your custom home is exactly as you plan. Not every custom home builder offers VR as part of the process but Seiffert Home Design does. That's because we want your experience to be over the top.
We are dedicated to helping our valued neighbors in the Quad Cities and surrounding area design the home of their dreams. Nothing is more important than your family's satisfaction. The Seiffert name is one our neighbors have trusted for more than a century. We combine old-fashioned values with cutting edge technology so our customers get exactly the home they long for. Contact Seiffert Home Design today and come see the difference for yourself.