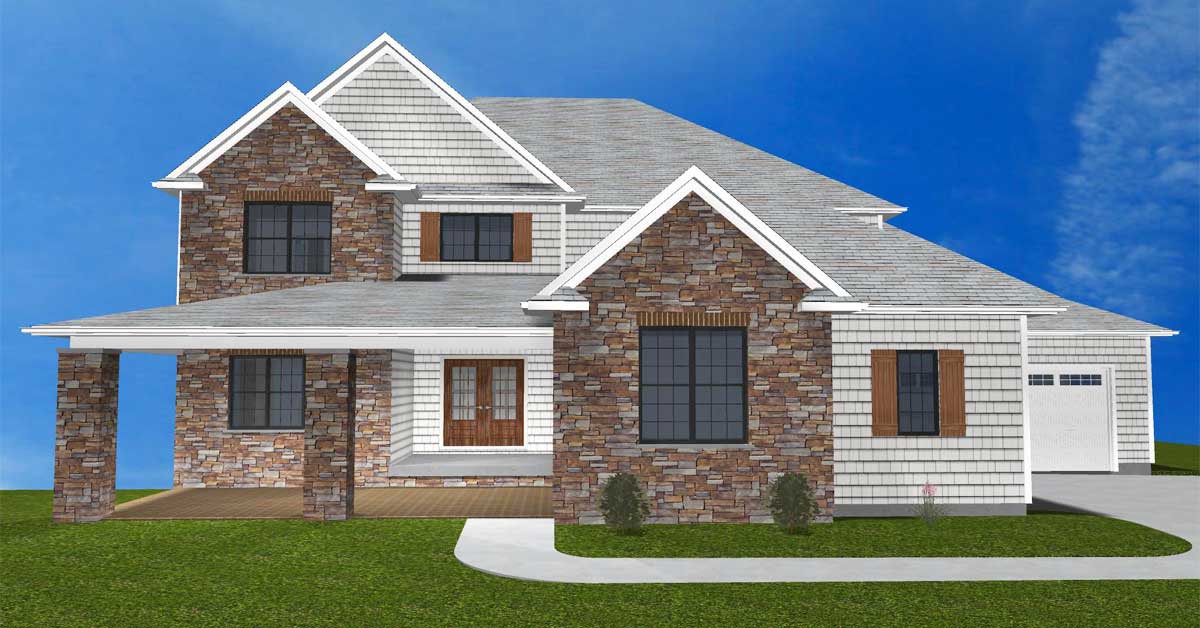 14 Sep

6 Innovations to Consider When Designing Your Custom Home

Including new ideas and innovations in your custom home is part of what makes designing your home so exciting. There are some really innovative trends and techniques available right now that add panache and value to your dream home. Here we take a look at some of the most popular innovations in home design today.
1. Designs That Showcase Nature
Home design with an eye on Mother Nature's spectacular beauty is not exactly among new innovations in home design however including nature inside and out is a trend that's here to stay. And with four seasons in our Quad Cities area old Mother Nature really shows out. 
Items such as natural wood beams, retractable glass walls to look out on your yard, nature-inspired room palettes and even a statement entry door with wide sidelights highlight the natural beauty surrounding your home. Take a moment to determine, if possible, the best position for your custom home as it relates to your lot. This will provide you with the optimum opportunities to showcase the natural beauty around you.
2. Rooms Awash with Natural Light
Sticking with the nature theme, why not take advantage of natural light. Plenty of windows, large glass patio doors, skylights and sky tubes all let in the warm glow of natural sunlight. And todays innovations in windows, skylights and sky tubes mean there won't be any wasted energy and all that will come in is the sunshine, not the hot or cold temperatures.
3. Secluded Outdoor Relaxation Area
Stress less while you enjoy your time outdoors in a designated secluded relaxation area. A place to unwind is one of the most popular innovations in home design today. Your personal outdoor space, away from the prying eyes of neighbors or passers-by, does wonders for your wellbeing. Comfortable seating with a hot tub or water feature, outdoor fireplace, wine fridge or any creature comforts you may desire is an automatic staycation if even for a few hours at the end of your hustle-bustle day.
4. Outdoor Entertainment Area that Adapts to the Weather
Enjoy entertaining family and friends in your outdoor area. Then, as the weather chills or it starts to rain, enclose your patio or deck with a retractable glass wall. There've been many innovations in the last few years in outdoor entertainment areas. The new "screen porch" is essentially an extension of your home like never before. 
Imagine a covered area with composite decking and built in grill, refrigerator, sink and even a bar. You can mount a TV so you never need to miss a game. Some rugged but comfy outdoor furniture, maybe a vaulted ceiling and ceiling fan turning lazily while you just enjoy your time together on a warm fall afternoon. If the weather changes there's no need to disrupt the party. Simply close off from the elements with retractable glass walls. 
5. Eco-Friendly Custom Home Design
Today's custom home designs include many innovations with an eye toward the environment and your own carbon footprint. Sustainability in the materials used to create your home, energy efficiency own your appliances, taking advantage of solar energy in everything from outdoor lighting to solar panels, even the way you landscape are becoming huge in custom home design.
When you work with your professional home design team you can come up with ways to incorporate eco-friendly and environmentally sound innovations into you home design without losing any of the modern conveniences today's families have come to love.
6. Personalized Spaces in Your Custom Home
What is a custom home if not a home that you can personalize? In the last few decades the open floorplan became one of the most desirable home design elements. The spaces that flowed together, typically kitchen to dining to family room, without any delineation through the use of walls or doorways meant many family activities could occur at the same time and everyone was within sight of one another.
Today more families see the value in having designated areas for specific purposes such as a home office, play room or study room for the kiddos, a room for fitness equipment, a place to enjoy TV and a specific area for cooking and dining. Let your lifestyle determine how you want to personalize your space.
Custom Home Design? Make it Your Own With Your Favorite Innovations
Designing your custom home is a personal experience. Buy that we mean the innovations you include, the specifications you make and the customized home design you want to see come to life is particular to the needs and wants of you and your family.
At Seiffert Home Design we understand no two custom homes are ever the same. We want to work with you to design the custom home of your dreams, complete with all the great new ideas and innovations you wish to include. Contact Seiffert Home Design today and let's get started designing your new home.