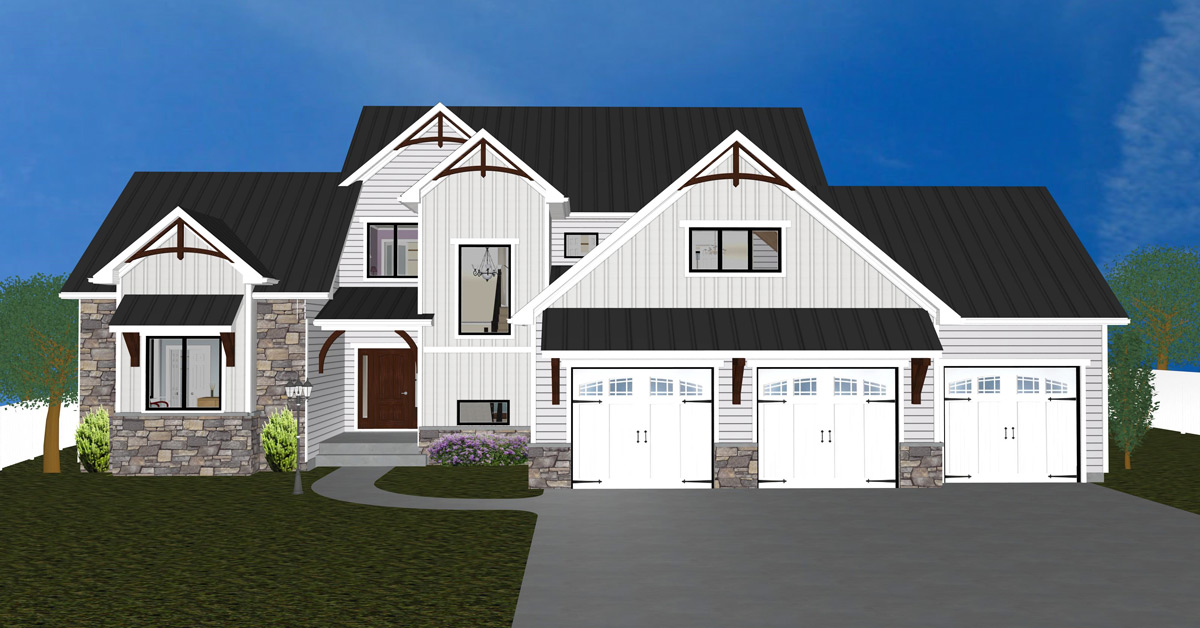 13 Jul

The 5 Reasons to Hire a Professional Designer

Shopping for a new home and finding nothing that suits your needs or needs your expectations is truly frustrating. Especially when the current market is so competitive for buyers. Maybe it's time to hire a professional designer to create your dream home?
Hire A Professional Designer to Create Your Unique Home
Everyone has a unique set of requirements when searching for the ideal house in which to live. Some families with growing children require space for everyone to spread out, others need a separate in-law suite for aging parents or other family members and empty nesters may require a home that allows them to age in place. All of these needs must be considered when looking at design elements.
Additional elements new home buyers look for are things like a chef's kitchen, space for entertaining, spa bathrooms and impressive outdoor gathering areas. Ready-built and cookie-cutter homes typically mean the buyer must settle and compromise their ideas for a dream home. That's a mighty big ask for a lot of people, especially with the price of homes in the current market.
But, when you hire professional designer to work with you it is possible to create the home of your dreams. No matter how big or how small you want your new home, when you hire a professional designer it's all about you. Here are 5 more reasons to hire a professional designer.
5 Benefits to Consider When You Hire a Professional Designer
Given how easy some home building shows make it look, you may be tempted to try do a lot of  the work yourself. But, when it comes to the actual home design you'd best hire a professional designer for that. Your home is one of the biggest investments you'll ever make. Ensure your new bill will carry you and your family into the future in all the best ways.
1. Maintain the Budget
Hire a professional home designer and they clearly understand the budget from day one. Your design team work with you on many of the specifics. If you want a particular quartz countertop that depletes your budget your designer helps you make some adjustments elsewhere. They even help you design with the intention of easily adding key elements in the future.
2. Get the Upper Hand on Your Design
When you hire a professional designer to create your new home you have the advantage in the design process. Communicate your ideas to the design pro and ensure you get the home you want. No need to compromise on your new home and you won't feel as though you're settling. This is your home with your unique touch in every element of the design.
3. Hire a Professional Designer and Benefit from Their Expertise
Your designer doesn't just interpret your ideas and needs and put them to paper. As a professional they know to make sure every aspect of your design is structurally sound and, well, doable. Certain areas and municipalities have specific code requirements. Your design team knows what is allowed and the permits you need to create your dream home. 
Building your dream home doesn't mean feeling overwhelmed at every turn. Your pro also has access to a network of contractors and subcontractors. They know just who you need to get the job done they way you want it. When you hire a professional designer they know what decisions you'll be called upon to make throughout the process. Much of the minutiae is dealt with prior to breaking ground.
4. Realistic Expectations
If something is structurally impossible, not allowed by code or a real budget-buster your designer typically knows this up front. Thy will lead you in another direction, if necessary, and keep your expectations realistic. There are no extra costs to repair an element of your home design that simply doesn't work. Hire a professional designer and you'll have a pretty accurate idea of your timeline. 
5. Quality Materials
Design pros understand using the best quality materials results in a better quality home. Going it alone, or deciding not to hire a professional designer limits your access to high quality, affordable resources. Just as they have access to a network of reputable contractors and construction crews, your design pro knows the quality of the materials available to you. 
Your design pro also knows the trends in smart home technology, energy efficient products and  those supplies that help make your home environmentally sound and limit your carbon footprint. 
We're a Team
In the end you'll be happy you decided to hire a professional designer to create your custom build. At Seiffert Home Design we value our clients and work with you as a team. Together we'll design the unique home of your dreams that checks all the boxes. Contact Seiffert Home Design today.