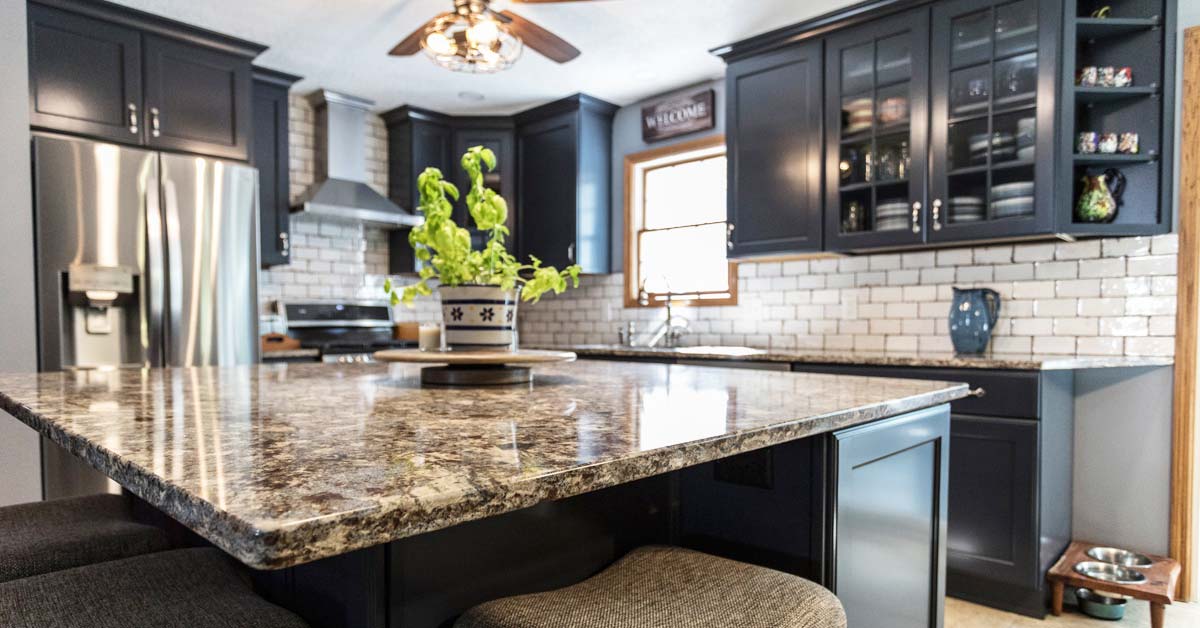 11 May

Here's What the Pros Say about Kitchen Island Design Features

Whether you're making a sumptuous five-course meal for friends or preparing a simple weeknight casserole for family a well-tooled kitchen makes the venture much more enjoyable. Home cooks don't need to rely on a spacious kitchen for efficient cooking, just a workable space that makes the most out of the the prep zones. That includes a lovely and efficient kitchen island design. 

One kitchen feature that makes the living and cooking easy is the kitchen island. But, as we've seen for the past few decades the kitchen island can be so much more than another countertop or prep area. Dreaming of an escape to the (kitchen) islands? Here we offer tips and advice from the pros for the ultimate in efficient and aesthetically pleasing kitchen island design.
Kitchen Island Design Features You Need
Kitchen island design is a task best approached with a thorough understanding of the features you want and need. Think about it. Your entire kitchen space revolves around your island. Some kitchen island main features are basic-extra seating, more storage, a place for your kitchen sink or appliances. But when you consider it is the focal point of the room your kitchen island design features become much more than utilitarian. Here are some of the features put pros recommend for your kitchen island design.
Seating Area
Without a doubt the most recommended and popular kitchen island design feature is the seating. Even if you only add seating and dining space to a portion of your island it's a feature that shouldn't be overlooked.
If your family is like most busy families flocking to the kitchen for snacks, homework or a late night bowl of ice cream is routine. Entertaining guests? You can be assured at least some portion of the evening will be spent visiting around the island. Make it easy on your family, your guests and yourself and plan a portion of your island-or all of it-for seating. 
Keep in mind there are quite a few ways to arrange this  feature so let your design pro know what you need from your seating area and together you can design the perfect arrangement for seating at your kitchen island.
Two-Sided Storage Kitchen Island Design
Call on a large kitchen island to do double-duty when you incorporate two-sided storage into your kitchen island design. Modern kitchens are moving away from upper cabinets.  The storage afforded by your kitchen island provides space to house any of those accessories and gadgets formerly stored above. Deep drawers on the kitchen-facing side and seamless cabinets on the backside help keep your kitchen clutter free and neat. 
Prep Sink
Some Quad Cities homeowners opt for the main sink in the kitchen island. But consider the addition of a smaller prep-sink in the island to complement a main sink in the main counter. The prep sink allows two people to work on the meal at the same time. It keeps your island prep area an easy space for cleaning and chopping vegetables and other foods. Consider placing your prep sink off to one side nearest the refrigerator providing seamless counter space that can double as a buffet for entertaining.
Beverage Refrigerator or Cool Storage Drawer
When you're preparing a meal it can be frustrating when your family constantly goes to the refrigerator for their favorite beverage. Consider adding a beverage fridge to your kitchen island design. A small glass-front refrigerator fits easily into the end of your island. Another option?  Install a multi-service kitchen cooling drawer instead. This allows room for beverages or to keep prepped food like veggie or deli trays or the prepped items for your charcuterie board chilled until ready-to-serve. 
In-Island Microwave
Much like the beverage fridge incorporating a microwave into your kitchen island design offers many benefits; the main one being your prep vibe won't be interrupted the someone needs to heat up their coffee or warm up a snack. When your island is your main prep area having a microwave handy makes everything about prep easier. And when you tuck your microwave into your island it eliminates clutter on your counter. If you have an over-the-stove microwave moving to to the island leaves a clean sightline.
Make Your Kitchen Island Design Special
You've heard it before, your kitchen is the heart of your home. Make your dream kitchen reflect your personal style and aesthetic. Consider getting creative with your designer. Do you have treasured cookbooks, even in this day of digitization? Incorporate a book shelf specifically to display your treasures. Are you someone who bakes their own bread or likes to make pastries and so forth? Ask your designer to install a section of soapstone for kneading bread or rolling out dough. In addition to the style, material and color of the countertop and cabinetry you select install something useful and special that speaks to your unique sense of style. 
Your Kitchen Island Design Pros
For more on how you can choose the kitchen island design features that make your kitchen as efficient as it is show stopping, contact the team at Seiffert Home Design. Our professional designer will work with you to design the kitchen of your dreams.