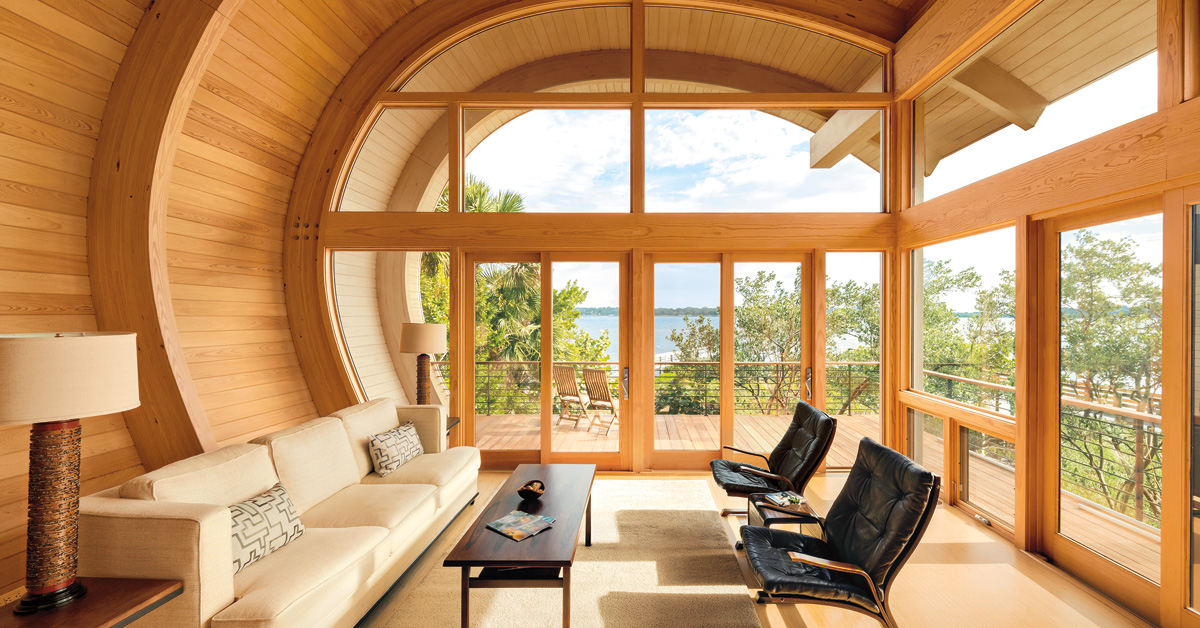 07 Apr

8 Incredible Home Design Trends For Your Home

Today's home design trends are more a reflection of the homeowner than ever before. Because we've all spent a great deal of time inside our homes over the last few years homeowners are getting in touch with what matters to them. There's no more satisfying way to make your home about you than embracing the freedom to design a space that's truly your own. 

While unique in its application personal taste is given reign and showcased in todays home design trends. There are many fun and exciting ways to let your own brand of style shine throughout your home. Whether you're building a new home or renovating your current abode these home design ideas will keep it fresh. Here we give you seven of the top trends in home design for 2022 and beyond. 
8 Home Design Trends You'll Love
Many of the trends in home design right now are sure to become the new classics. Designs that embrace the outdoors, utilize sustainable materials and incorporate multi-function spaces throughout the interior just make sense. Flow and functionality are top of mind in today's home design trends. 
1. Mixed Materials
Home exteriors are alive with mixed materials like stucco and stone, vertical siding, cedar and metal. Brick is still a popular option in home design trends but homeowners prefer the look of painted brick. It's especially popular in the modern farmhouse style of house. When mixing materials it's best to balance them in a way that brings your aesthetic to the forefront. Painted brick with cedar shutters, vertical siding and stone, stucco and stone with stained siding are some examples of tasteful combinations. 
Metal is everywhere. Just look up! Metal roofs are a hugely popular home design trend in the Quad Cities right now. 
2. Kitchens are Still King
Kitchens are still the heart of the home and carry the main aesthetic. The latest trends in home design point to bigger kitchens which incorporate more multi-functional space. The chef's kitchen remains the most coveted but the space is bigger to incorporate efficiency. 
Multi-purpose islands are trending as the area for informal dining, water station, wine fridge and occasional bar or buffet. While useful in an open floorpan the multi-purpose island is useful for separating the kitchen from the dining area.
3. Maximalism Meets Minimalism
Minimalism design is still trending in big ways, but with a few changes. While bare walls and very few accessories were all the rage in home design trends in the pre-pandemic world, homeowners are now adding more creative touches to personalize their space. Enter artisan works and crafts, meaningful antiques and accessories inspired by nature. This trend continues to evoke a zen-living aesthetic but with a little more personality. 
4. Paneled Ceilings
Remember when a certain popular husband and wife design team caused a revolution with shiplap accent walls? Well shiplap has moved on up to the ceiling. And not only shiplap (which traditionally was repurposed wood boards from boats) but barn wood and even cedar shingles. In order to pull off such a home design trend you really need at least an eight foot ceiling. Otherwise it could feel closed in and "cave-like".
5. All About the Curves
Curvier architectural elements are popular additions to home exteriors. Arched porch entries, porch ceilings, windows and entry doors are showing up among the favorites outside the home. Interiors are also embracing their curves with barrel-vault ceilings and curvy furniture. The chic curvy elements lend a sophisticated "bohemian" vibe.
6. Cabinetry That Moves Beyond the Kitchen
Built-in cabinetry is among the hottest of home design trends right now. Working from home and home-based learning are around to stay so why not make it easier to accommodate? Built-in desks and shelves are complemented by cabinets in which to stow your office and school-related items. 
7. Taking it Outdoors
Another popular idea among home design trends is the upscale outdoor space. From porches to decks to patios and pergolas the vibe is very laid back and casual chic. Some homeowners covert the standard grilling area to a full-on outdoor kitchen. Others want a covered area that serves as a summer gathering spot. Of course you can get the most out of a versatile four-season outdoor space.
8. Black Accents Home Design Trends
Black accents such as doors, window and door frames, hardware and accessories show out nicely against the ever-popular white-to-neutral palette. Use them sparingly as this color trend can overwhelm. But,  incorporating black accents in your home design makes a powerful impression.
Making Home Design Trends Work for You
What makes home design trends become classics? When the elements of the trend are used in a way that reflects your personal style. At Seiffert Home Design we take pride in helping you create the home of your dreams. As a local, family-owned company we understand what works for homeowners in the Quad Cities. Contact Seiffert Home Design and let's work together to make a house your home.